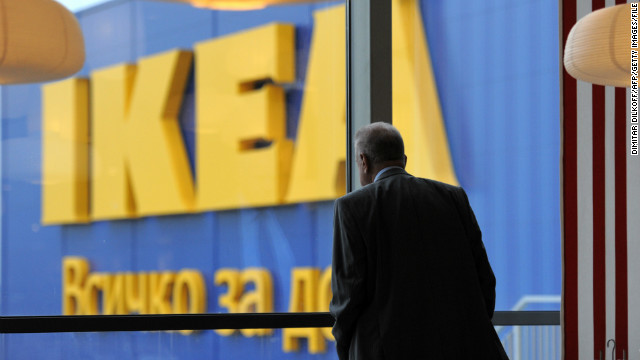 Print
Email
More sharing
RedditStumbleUponDelicious
Ikea finds horse meat in Russian hotdogs
By Laura Smith-Spark and Per Nyberg, CNN
March 7, 2013 — Updated 1629 GMT (0029 HKT)
(Illustration photo) A man looks through a window of an Ikea store.
STORY HIGHLIGHTSIkea says horse meat has been found in hotdogs produced for sale in Russia
The company says testing has shown the vast majority of its products are not affected
The horse meat scandal has extended across Europe in recent weeks
(CNN) — It's another case of horse meat being found in products that are not supposed to contain it.Furniture giant Ikea said Thursday it pulled hotdogs from its stores in Russia after tests revealed they contained rogue horse meat.Dozens of processed meat products have been pulled by European suppliers, retailers and food outlets in the past several weeks after the discovery of unauthorized horse meat in them.Opinion: Scandal shines spotlight on murky horse trade
Ikea said in a statement Thursday it had undertaken wide-scale testing of its meat products from different suppliers in all its markets.
From the farm to your freezerHorse meat coming to America?Horse, pig meat found in frozen burgersBurger taste test: Beef vs. horse"The vast majority of these tests show no indication of horse meat. However, there are also a few tests that do. In those cases we remove the product from sales," the company said."IKEA Group is committed to serving and selling high quality food that is safe, healthy and produced with care for the environment."The test result from Russia concerns locally produced hotdogs and only affects the Russian market, Ikea said.The alert over the hotdogs has added to what has been a difficult couple of weeks for Ikea.What's behind the horsemeat contamination scandal?
Ten days ago, the company suspended sales of its Swedish meatballs after testing in the Czech Republic revealed traces of horse DNA.
Testing since has revealed the presence of horse meat in a few samples of Ikea meatballs from a supplier in Sweden, the firm said Thursday.
Ikea also said Tuesday it was withdrawing its almond cake with chocolate and butterscotch from sale in 23 countries after traces of coliform bacteria — organisms found in the environment and in the feces of warm-blooded animals and humans — were found in two batches.
The horse meat scandal has extended across Europe, with questions raised over slaughterhouses and food suppliers in a number of countries.
The UK Food Standards Agency released the results Friday of the latest round of testing ordered on products labeled beef across the UK food industry.
Horse: Coming soon to a meat case near you?
So far, more than 99% of tests continue to show no horse DNA at or above the level of 1%, it said.
Horse meat is not harmful in itself but authorities are concerned by its unauthorized presence in case it is tainted with a veterinary drug used to treat horses. Phenylbutazone, also known as bute, is not allowed to enter the food chain because it can pose a risk to humans.
The European Union said last month it intends to begin testing meat across all 27 member states.
0Comments »Print
Email
More sharing
RedditStumbleUponDelicious
Part of complete coverage on
CNN RecommendsWhy has Darfur suffered for a decade?
March 7, 2013 — Updated 1059 GMT (1859 HKT)
Military intervention in Mali has been swift — it took only a few months for foreign forces to step in to start helping the population.
Is Pistorius a 'troubled athlete'?
March 7, 2013 — Updated 1809 GMT (0209 HKT)
The South African athlete's fall shocked many. But some who knew him said they were not surprised.
Celibacy for priests a hot issue
March 7, 2013 — Updated 1439 GMT (2239 HKT)
With the election of a new pope, many church watchers wonder if Catholic teachings could change to end the church's celibacy requirement.
Kenya separatists linked to al Qaeda?
March 5, 2013 — Updated 2156 GMT (0556 HKT)
Nic Robertson reports from Mombasa, Kenya, on the threat posed by separatists.
Venezuelans line streets for Chavez
March 7, 2013 — Updated 1427 GMT (2227 HKT)
Followers of President Hugo Chavez, who died Tuesday, demonstrated nationwide to show they support a continuation of his policies.
Syrian refugee crisis 'out of control'
March 7, 2013 — Updated 1645 GMT (0045 HKT)
The number of refugees fleeing Syria's civil war has reached one million. Gluck: Without more money to help, difficult decisions will have to be made.
Rodman's N. Korea trip 'is a big show'
March 7, 2013 — Updated 0749 GMT (1549 HKT)
Opinion: The bizarre episode overshadows the suffering of North Korean people.
New details on Costa Concordia deaths
March 6, 2013 — Updated 1024 GMT (1824 HKT)
CNN's Dan Rivers discusses a report that sheds new light on how some of the Costa Concordia victims died.
20 fun and useful new mobile apps
March 7, 2013 — Updated 0109 GMT (0909 HKT)
With a flood of new mobile apps seemingly hitting the market every day, it's sometimes hard to keep up.
How hotels are luring businesswomen
March 7, 2013 — Updated 0427 GMT (1227 HKT)
Hotels are working overtime to accommodate the needs of one of the fastest growing demographics in the travel industry: businesswomen.
Today's five most popular stories
See the article here: