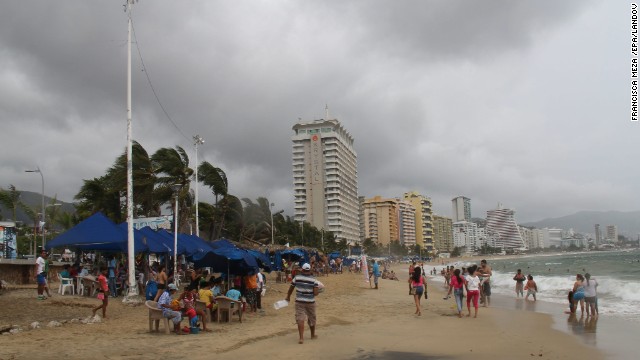 SHARE THIS




Print
Email
More sharing
RedditStumbleUponDelicious
Hurricane Raymond menaces Mexico's Pacific coast
By Ed Payne, CNN
October 21, 2013 — Updated 0641 GMT (1441 HKT)
Tropical Storm Raymond brings cloudy skies to Acapulco, Mexico, on Sunday, before it strengthened to a hurricane.
STORY HIGHLIGHTSA hurricane warning is in effect for Tecpan de Galeana to Lazaro Cardenas
The storm is nearly a major hurricane
Heavy rainfall is forecast along the south-central coast
(CNN) — Nearly a major hurricane, Raymond churned off the southern Pacific Coast of Mexico, threatening major tourist destinations.The National Hurricane Center in Miami issued a hurricane warning for Tecpan de Galeana to Lazaro Cardenas. The warning means tropical storm-force winds are expected in the next 36 hours. A hurricane watch is in place from Acapulco to Tecpan de Galeana.Raymond was 165 miles west-southwest of Acapulco. It had maximum sustained winds of 110 mph, with higher gusts, and was moving north at 4 mph. At 111 mph, a tropical storm becomes a major hurricane."Additional strengthening is expected during the next day or so," forecasters said, "and Raymond could become a major hurricane at any time."The storm is forecast to slowly close on the coast through Tuesday. It's expected to take a sharp turn west before it has a chance to reach land, the hurricane center said.Raymond is forecast to dump heavy rain along the south-central coast of Mexico, with between 2 to 4 inches and up to 8 over the state of Guerrero. The area was hit hard by another storm in September.The previous storm, Manuel, triggered deadly mudslides and left about 40,000 tourists stranded in Acapulco, a popular tourist destination.0Comments »
SHARE THIS




Print
Email
More sharing
RedditStumbleUponDelicious
Part of complete coverage on
Hurricane & tropical storm season
Where have all the hurricanes gone?
September 14, 2013 — Updated 1640 GMT (0040 HKT)
Call it a meteorological mystery: Forecasters warned that there would be at least six Atlantic hurricanes this season, but so far we've seen only two.
NOAA: Above-normal hurricane season
May 23, 2013 — Updated 1753 GMT (0153 HKT)
Warmer-than-average water temperatures are expected to help yield a few more Atlantic hurricanes than usual this year.
Facts: 2013 Atlantic Hurricane Season
October 8, 2013 — Updated 1926 GMT (0326 HKT)
Here is a look at what you need to know about the 2013 Atlantic hurricane season.
Keep a hurricane preparation checklist
October 26, 2012 — Updated 1620 GMT (0020 HKT)
In areas where hurricanes can strike, it's a good idea to have a closet or an area set aside for storm preparedness storage.
All you need to know about keeping your food safe to eat and what to have on hand in the event of a weather emergency.
Staying safe when the lights go out
October 29, 2012 — Updated 1129 GMT (1929 HKT)
Water jugs and batteries are not the only things to consider when extreme weather threatens.
June 6, 2013 — Updated 1307 GMT (2107 HKT)
Here's a look at some hurricane statistics you need to know.
Keep your phone charged in a power outage
February 9, 2013 — Updated 1057 GMT (1857 HKT)
In our increasingly digital world, a mobile phone or other portable device is often a one-stop communication device.
August 21, 2013 — Updated 1805 GMT (0205 HKT)
Here's a look at what you need to know about the Atlantic hurricane season, which runs from June 1 to November 30.
Include pets in emergency plan
August 30, 2012 — Updated 1923 GMT (0323 HKT)
You don't have to leave your pets behind in a disaster. Here are ways to keep them safe.
Photos: Weather around the world
August 7, 2013 — Updated 1446 GMT (2246 HKT)
Get a glimpse of the weather events happening around the world by clicking through our photo gallery.
Today's five most popular stories
More: